Improve Your Mobile Shopping Experience with Site Search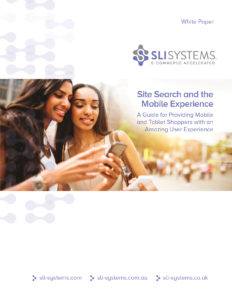 The mobile revolution attracts shoppers to the convenience of buying products via their smartphones and tablets. The challenge is to make mobile shopping experience fast and convenient, even with the limitations of smaller screens and limited typing functionality.
The Site Search and the Mobile Experience ebook delivers mobile e-commerce strategies proven to increase sales, including:
19 mobile site search tips and tactics
How to test and analyze your mobile website
The 5 simple steps to start optimizing your performance
Grab this ebook to improve your mobile shopping experience.
Download the Free Mobile Shopping eBook
Get the 19 mobile e-commerce strategies proven to increase your sales
e.l.f. Cosmetics conversion rate is 4x higher on mobile for site search users vs. non-site search users