Guide to E-commerce Website Navigation Design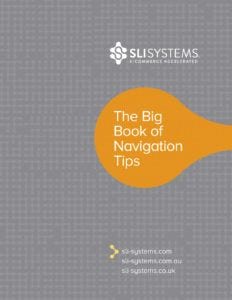 Well-designed e-commerce website navigation leads shoppers straight to the items they want. The shorter the time they are browsing, the faster they will buy.
You don't want your visitors to fall into even a second of frustration, or they could be lost.
Get 56 high impact navigation tips for your e-commerce website, including:
How to create intuitive site navigation for different shopper preferences
How to increase traffic with SEO-friendly navigation pages
How mobile shoppers navigate
How to improve merchandising landing pages
Want more sales? Grab your copy of the Big Book of Navigation Tips.
Get the Big Book of Navigation Tips
56 website navigation design strategies proven to increase online sales
Power Tip: Apply top search terms to your category and subcategory pages to help shoppers navigate to exactly what they had in mind.