Consumers increasingly expect greater ease and personalized experiences from their online interactions. Online retailers are faced with new challenges for engaging with, and adapting to, the demands and expectations of their customer base. Below, I've outlined six of the most important e-commerce trends that should be on your radar as you plan your strategy for 2017.
Incorporate these market shifts into your business model to stay on the forefront of the industry and lay the groundwork for future growth. You'll provide a top-notch online shopping experience that keeps customers coming back for more.
Real-Time Analytics
Online retailers have access to unprecedented amounts of data on their customers. The challenge is not in the gathering, but in how to filter and translate data in real time into usable and actionable insights. Delays between collection and action can be costly.
In 2017, closing this gap will be critical for the success of online retailers. Those who measure in real time can act in real time to optimize their performance. Integrate a robust analytics platform to capture real-time performance, gain immediate insights, and compare them against your goals or KPIs. Your customers will be delighted with their instantly customized shopping experience.
Equal Expectations from Desktop and Mobile
Of all e-commerce trends, probably the most notable is the continued move to mobile. Mobile accounts for over half of all e-commerce traffic. No online retailer can afford to ignore it. Online shoppers in 2017 want a responsive, streamlined experience from mobile and desktop alike.
Consumers will fully expect every functionality and customization they encounter on their desktops when they shop on their mobile devices. Live-chat services, relevant product recommendations, intelligent auto-complete searches, and smart filtering options will all be necessary if you want to expand and retain your mobile consumer base and keep them coming back for more no matter how they choose to shop.
Personalized Shopping Experiences
Smart retailers realize that the same search term doesn't mean the same thing to every customer. In 2017, both repeat customers and first-time customers will expect a bespoke experience whether they are searching, navigating or being presented with recommendations. Retailers who tap into the power of machine learning to create contextual personalization across their sites will win higher conversions.
To capitalize on this trend, integrate responsive software that learns from customer behavior to present custom-tailored search and navigation results and intelligent predictive product recommendations.
In addition, expand product recommendations beyond the scope of your site. Integrate them into emails, social-media and web banners to enable broad customer engagement in all corners of the Internet.
Artificial Intelligence (A.I.)
AI is already changing the online retail playing field through predictive search, personalized recommendations, the use of digital shopping assistants and visual product discovery, which allows users to take pictures of items they like, conduct a visual search for the item online, and get personalized recommendations.
Consider how 1-800-Flowers is using AI to power their GWYN (Gifts When You Need) service. Acting like the shopper's own personal assistant, GWYN asks the shopper a series of questions in order to learn and predict the product that would be most appropriate. If a user types "I'm looking for a gift for my mother," GWYN will use natural language processing abilities to interpret the search phrase, ask qualifying questions about the occasion, and make smart product recommendations.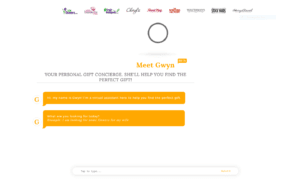 With intelligent machine engines running behind the scenes, retailers will be able to deliver to their customers the highest degree of adaptive personalization possible, helping them feel increasingly understood, catered to, and apt to buy. Retailers who ignore this fast-moving trend will be left playing catch up.
Same-Day Shipping & Free Returns
Flexible delivery and return options will be required of online retailers in 2017 and beyond. Services like Amazon Prime's free two-day and expanded same-day shipping options have shifted customer expectations toward rapid, cheap, or free shipping. Retailers need to be ready to meet these expectations in order to expand and retain their customer base.
Customers also want a painless returns system. Free returns mitigate the risk of online shopping and encourage customer loyalty. Online retailers such as Zappos have been offering free returns with no questions asked, and consumers have begun to expect that service on other sites.
Customer Engagement: Focus on Social Media
Providing seamless customer service across social media platforms will continue to be a big trend in e-commerce. Retailers who engage with customers on diverse social media platforms enhance the user experience, and give their customer multiple venues through which they can directly speak with customer service representatives.
The delocalization of customer service will allow retailers to reach their customer base across a broad network of platforms. At the same time, responsive customer service across social networks helps convert one-time purchasers into return shoppers. Not to mention the fact that this type of customer service drives increased traffic to your site by demonstrating to first-time shoppers that their questions won't fall through the cracks.
These six e-commerce trends for 2017 demonstrate the need for online retailers to accurately predict their consumers' needs, while expanding the base with which they engage with customers and potential customers alike. Capitalizing on these trends will require online retailers to expand their e-commerce deployment to include robust systems that offer real-time analytics, intelligent predictive product placement, and a customized user experience, regardless of whether consumers are on a desktop or mobile platform.
To learn how to capitalize on e-commerce trends with predictive search, download this e-book: The Big Book of Site Search Tips.