Posted by
Shaun Ryan
, May 5th, 2009 at 8:25 pm PST
I was on the Marketing Sherpa site today, reviewing the article that published last week about our customer Jelly Belly and I noticed that their site search could do with some improvement.  The search is powered by our competitor Omniture/Atomz – hopefully this will help them do a better job :-).

First the index is out of date. A search for Jelly Belly returned no results – even though the article is linked to from their homepage and was published a week ago.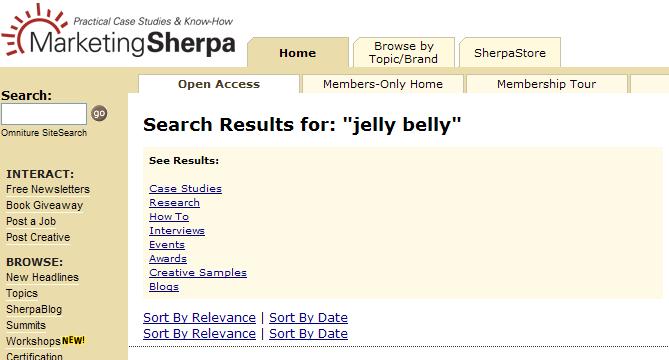 The no results page could be a lot better. They could show some popular searches. At the very least they should tell you that there were no results.  The links at the top didn't do anything. And it seems strange to have the option to sort a list of 0 results  by relevance or by date.
I tried searching from the SherpaStore and got a 409 page. The Login link takes you to an Atomz page. I suspect Marketing Sherpa need to change the form code on the SherpaStore page – to point to their regular search.

When you do manage to get search results they are categorized.  There may be some situations where this makes sense but I think they are few and far between and I don't think this is one of them. Categorizing the search results can push the most relevant results way down. For example if you search for summit you have to go through case studies, research, how to, interviews and articles before you get to the events (where I think you would find the most relevant results). They do have a sort option that promises to bring the most relevant results to the top. They also have a sort by date option – but I think it would be good if the dates were shown with the results when this option was selected.
Some other nice to have features that are missing include facets, related searches and auto complete.